Tiered Shelf Brackets – Steel Shelf System
Our Tiered Bracket System is modern design perfect for any room. These brackets come in a variety of different depths and tiers, so a variety of different shelf sizes may fit. All brackets are made of solid steel, and have an extremely high weight capacity. Perfect for a kitchen, garage, laundry room, or a bedroom.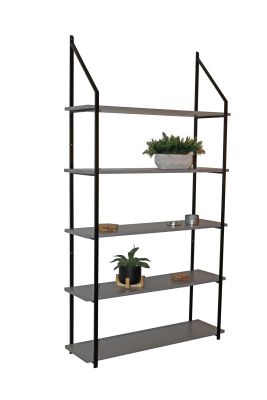 Product Specifications:
Made of solid steel.
Tiered Brackets come in optional 1-5 tiers.
Tiered Brackets coming in optional depths of 6″, 8″, & 10″.
The weight capacity of the bracket is higher than a wood stud or mounting hardware.
Mounting holes are countersunk so the mounting hardware is flush.
We recommend using #12 wood screws for installation.
Product Details:
All edges are beveled to eliminate a blunt edge. Creates a smooth finish.
Powder coated black to prevent against corrosion and rust.
Packaged with film & foam between items to eliminate damage during shipping.
Products are manufactured in America.
Product Manufacturing & Shipping: