Invisible Shelf Bracket – Floating Shelf Bracket
Right On Collection Floating Shelf Brackets are perfect for creating modern floating shelves. Once the bracket is installed it's invisible behind the back of the shelf.
Our flat dowel design delivers an easier installation process compared to a round dowel design. The flat dowels will fit into round installation holes, giving you some room for error when a round hole dowel must be perfect. The flat bars will still provide a stable hold without any movement. Weight limit of our brackets with a solid flat dowel is higher vs. a round hollow bar. A hollow bar can bend or break.
Custom measurements in the length and height can be specified above. Each invisible bracket is made with exact measurements These brackets are a great addition to any home, condo, apartment, or office building!
Product Specifications:
Will support floating shelves with 7″ to 12″ in depth with a thickness of 1.5″ to 6″.
Mounting plate (back of bracket) is 1.5″ wide x 1/4″ thick.
Flat bar rods are 6″ long x 1/2″ tall x 1/4″ thick.
Floating shelf brackets will support shelves:
7″ – 12″ deep.
1.5″ – 6″ thick.
Number of Extended Flat Dowels per Floating Bracket Size:
Brackets 10″ – 30″ : 2 bars
Brackets 34″ – 46″ : 3 bars
Brackets 50″ – 58″ : 4 bars
Brackets 70″ – 78″ : 5 bars
Weight Limits (Important):
Brackets 10″ – 30″ : 150 Pounds
Brackets 34″ – 46″ : 200 Pounds
Brackets 50″ – 58″ : 250 Pounds
Brackets 70″ – 78″ : 300 Pounds
Note: Weight limits are based on a Licensed Professional contractor installing them properly into wood blocking or studs. Drywall anchors WILL NOT hold the same weight.
If the bracket is mounted with only drywall anchors, assume 10 lbs per flat bar. (Using drywall anchors exclusively, only works well for shelves no deeper than 6″. Any deeper and they will likely pull out.) If you do plan to use only drywall anchors, We recommend using Drywall Toggles instead. A good brand we recommend is TOGGLER from Lowes.
Pre-drilled mounting holes:
Mounting holes are 1/4″ in diameter.
Mounting holes are 1″ from the end of the bracket and have a 6″ separation between each other.
If the holes don't line up with your studs, drill another 1/4″ to correctly line up with your studs.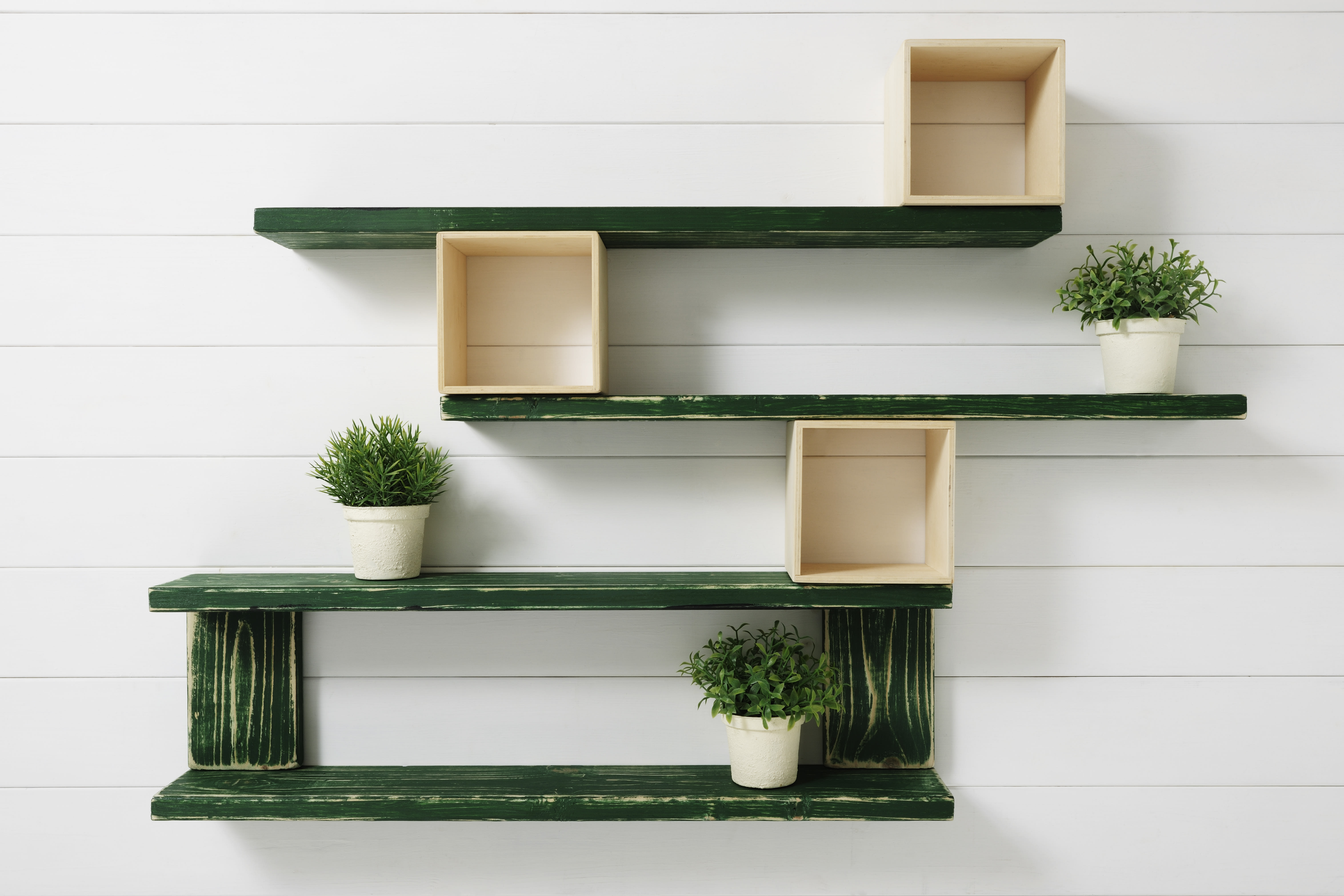 Hardware Not Included. Recommending #12 wood screws 2″ – 3″ long.
Installation Tips:
Make sure your order brackets slightly shorter in width compared to your shelves.
Use a 1/2″ drill bit when drilling holes into your shelf.
Pre-mark your drilling holes. Flat bars will allow some room for error, but check twice drill once.
Mount brackets into studs or a stable wood material. Drywall will not produce a stable hold.
Product Details:
Floating Shelf Brackets are powder coated to be weatherproof for an inside or outside application.
Brackets are American made and tested for quality before shipment.
Due to the several variations we offer, some brackets are made-to-order.
Are you concerned about the weight capacity? Checkout our Heavy Duty Floating Shelf Brackets. 
Product Manufacturing & Shipping:
We manufacture your brackets in 1-3 business days
We typically use USPS 1-3 day priority shipping.
Brackets delivered 3-6 business days after your order.